Our Founding Story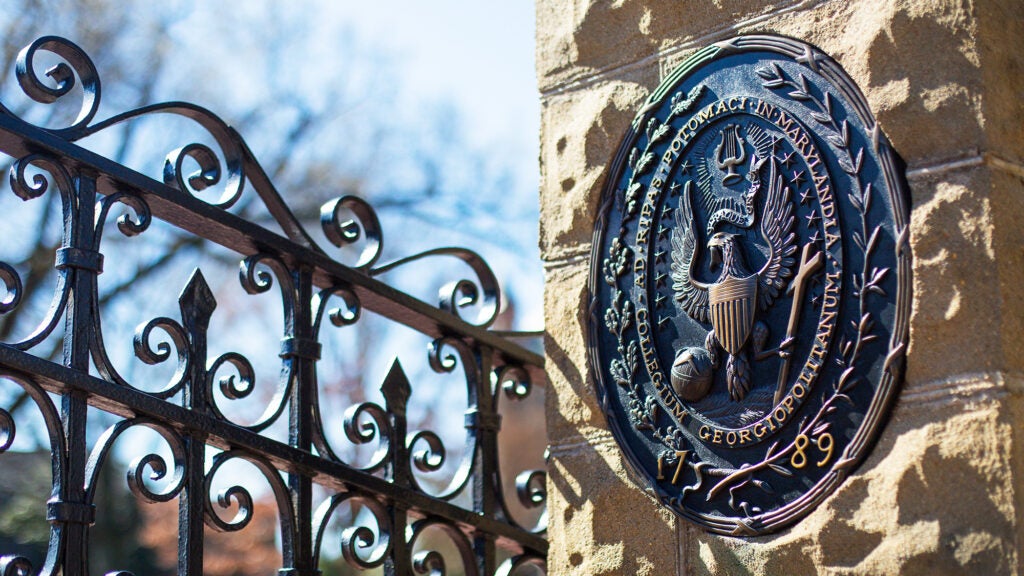 In 2016, University President John J. DeGioia laid out a series of major commitments to inform the university's work to address racial injustice.
Over one hundred and seventy years ago, people just like us lacked the moral imagination in their moment to recognize the responsibilities that we have to one another… to see the humanity and inherent dignity of all peoples. Their days are not unlike our days. Their moral failings are not unlike our own. What would a fully alive moral imagination enable us to see in the challenges and injustices that we are called to confront in this moment?

President John J. DeGioia
The Board of Directors approved the formation of the Department of African American Studies that year, and he assembled a Working Group on Racial Justice, which included students, faculty, staff and alumni, that focused on ways to convene conversations and produce leading scholarship to understand and dismantle obstacles to racial equality and human flourishing. President DeGioia signaled that one of the desired outcomes was the formation of the Georgetown University Racial Justice Institute.  The Working Group issued a report that identified the distinct need and process for developing the Racial Justice Institute.
"Georgetown's mission is based in social justice and – similar to many U.S. institutions, its history intersects with slavery," said Interim Georgetown College Dean Soyica Colbert, who served on the racial justice working group. "It is, thus, fitting and an important expression of the university's mission to constitute the Racial Justice Institute."
In 2017, Georgetown made a university-wide request for proposals for new senior faculty members who would be appointed jointly in the Racial Justice Institute and in existing academic units. That same year, the university used a $1.5 million grant from the Andrew W. Mellon Foundation to advance the development of the institute and related activities.
By 2019, a university faculty committee had reviewed the faculty proposals, discussed what combinations offered the best launch for the institute and selected four proposals for new faculty hires to lead the RJI spread over the Law Center, Medical Center, and Main Campus.
Rationale for the Racial Justice Institute
Our democracy is entangled in the legacy of racialized slavery, subjugation, imperialism, police brutality, highly unequal labor regimes, and the attendant moral failings that undergirded those violences.  The best explanations for these and other inequities, including those that concern wealth and opportunity more broadly, are ultimately rooted in racism and related forms of structural violence.
We believe that creating a Racial Justice Institute is necessary to address fully these legacies and the contemporary issues of unequal wealth, health, and political standing that racialized unfree communities face.  We are committed to executing and advancing Georgetown's initiative.
Our Catholic and Jesuit Values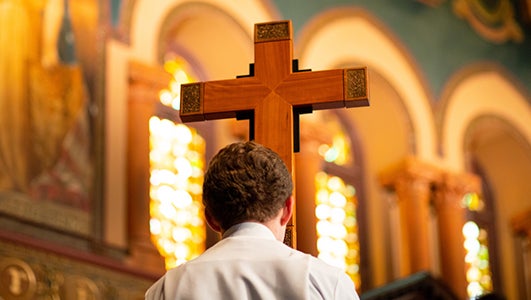 Georgetown University's core values of engaging intellect, fostering ethical and spiritual growth, exchanging ideas freely, and building a more just world undergird the mission and work of the Racial Justice Institute.
As a Jesuit institution, Georgetown University is grounded in a nearly 500-year-old educational tradition inspired by St. Ignatius of Loyola, the founder of the Society of Jesus.
As a consequence of this long tradition, the University has identified a number of characteristics that inspire our community and can be embodied as the Spirit of Georgetown. Such Jesuit values, which include People for Others, Educating the Whole Person, and Faith that Does Justice, inform the Racial Justice Institute's interdisciplinary work that pushes the frontiers of knowledge about race, equity, and action. Learn more about what comprises the Spirit of Georgetown and how it manifests in the University's work.
Georgetown's values are equally rooted in Catholic social thought and teachings, and the Catholic themes of Solidarity, Life and Dignity of the Human Person, Rights and Responsibilities, Option for the Poor and Vulnerable, Promotion of Peace, and others shape and mold us into the fullest version of ourselves, so that we, the members of the Institute, as well as the students, faculty, and staff at Georgetown, are poised to make an impact for good wherever we are — on campus, in the DC region, in the communities we serve, and on the international stage. As a research hub that invites scholars, activists, and thought-leaders who work across the academic, policy, and advocacy spaces, the Racial Justice Institute encourages collaboration among people of diverse perspectives from all faith traditions, including those who are religious and non-religious. It is our belief that individuals of all faiths and backgrounds can unite in service to others and create racial justice.