Anita Gonzalez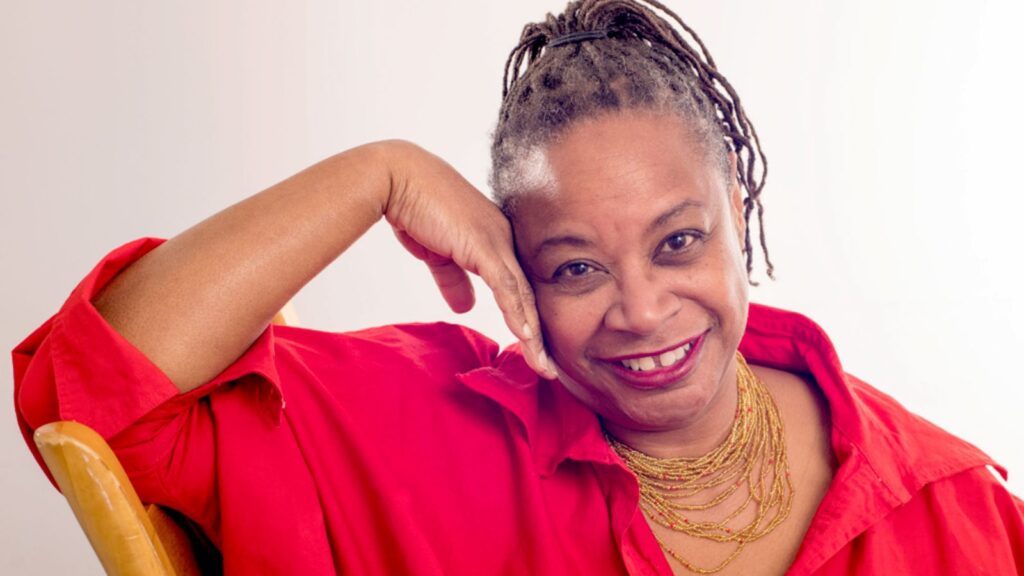 Anita Gonzalez (Ph.D.) is a professor of Performing Arts/African American Studies, at  Georgetown University and co-Founder/Leader of their Racial Justice Institute. She was recently Associate Dean for Faculty Affairs and a Professor of Theatre at the University of Michigan where she promoted interdisciplinary and intercultural performance initiatives. She directs, devises, and writes dance theatre works. Her innovative stagings of historical and cross-cultural experiences have appeared on PBS national television and at Lincoln Center Out-of-Doors, The Working Theatre, Puerto Rican Traveling Theatre, New York Live Arts, Tribeca Performing Arts Center, and other national and international venues. She is the Artistic Director of Art BoundariesUnlimited.com. She also teaches at the National Theatre Institute/O'Neill Center.
Gonzalez's interdisciplinary initiatives have included projection-mapped performances of The Snark,  The Living Lakes (about Black and Latino migrations in the Great Lakes), a performance installation and lecture series titled "Conjuring the Caribbean," and leading an interdisciplinary informatics team to develop the interactive historical website 19thCenturyActs.  She has created two massive open online courses "Storytelling for Social Change"  and Black Performance as Social Protest.
Her musical writings include Zora on My Mind, Courthouse Bells for Boston Opera Collaborative,  Ybor City (Cuban unionists, readings, rhumba, and smoke converge in 1918 Tampa, Florida), and Ayanna Kelly(a Black Caribbean woman time travels through British pubs until she finds self-discovery) and Home of My Ancestors (2017) Songs of Houston Series (HGOCo). Gonzalez also founded the Anishinaaabe Theatre Exchange in the Upper Peninsula of Michigan to engage Ojibwe communities in dialogue through theatrical performance.
Gonzalez is a member of the Dramatists Guild, the National Theatre Conference, the League of Professional Women in Theatre, and a founding member of the Urban Bush Women. She was recently elected to the American Academy of Arts and Sciences.  The NEA, NYFA, the Rockefeller Foundation, the Mid-Atlantic Arts Association, the Bellagio Center, and the FIDEOCOMISO for the United States/ Mexico Arts Exchange have all funded her work.
Anita holds a Ph.D. in Theatre and Performance Studies and has completed three international Fulbright awards. She is a co-series editor for the Dance in Dialogue book series at Bloomsbury Press. Her books Afro-Mexico: Dancing Between Myth and Reality (2010) and Jarocho's Soul (2005) reveal the influence of African people and their cultural productions on Mexico. She co-edited the volume Black Performance Theory (Duke University Press 2013) with Tommy DeFrantz. Her essays about multi-cultural and international performance appear in several edited collections including Narratives in Black British Dance (Akinyele), Black Acting Methods (Luckett), The Community Performance Reader (Kuppers), Festive Devils (Riggio, Segura, and Vignola) and the  Oxford Handbook of Dance and Theatre (George-Graves, 2015). She has published articles in the Radical History Review, Modern Drama, Performance Research International, and Dance Research Journal. Gonzalez was a Humanities Center Fellow at the University of Michigan during the 2017/18 academic year and she is a recent recipient of the Shirley Verrett Award and a Distinguished Faculty Achievement Award at the University of Michigan.