Our Catholic and Jesuit Values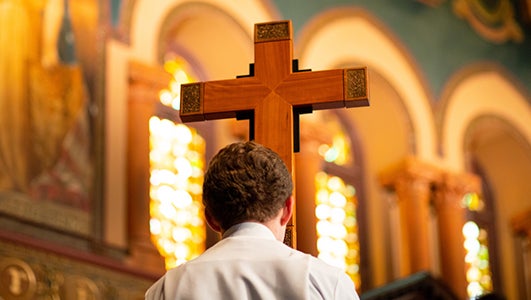 Georgetown University's core values of engaging intellect, fostering ethical and spiritual growth, exchanging ideas freely, and building a more just world undergird the mission and work of the Racial Justice Institute.
As a Jesuit institution, Georgetown University is grounded in a nearly 500-year-old educational tradition inspired by St. Ignatius of Loyola, the founder of the Society of Jesus.
As a consequence of this long tradition, the University has identified a number of characteristics that inspire our community and can be embodied as the Spirit of Georgetown. Such Jesuit values, which include People for Others, Educating the Whole Person, and Faith that Does Justice, inform the Racial Justice Institute's interdisciplinary work that pushes the frontiers of knowledge about race, equity, and action. For a complete list of the components of the Spirit of Georgetown defined, please visit this link.
Georgetown's values are equally rooted in Catholic social thought and teachings, and the Catholic themes of Solidarity, Life and Dignity of the Human Person, Rights and Responsibilities, Option for the Poor and Vulnerable, Promotion of Peace, and others shape and mold us into the fullest version of ourselves, so that we, the members of the Institute, as well as the students, faculty, and staff at Georgetown, are poised to make an impact for good wherever we are — on campus, in the DC region, in the communities we serve, and on the international stage. As a research hub that invites scholars, activists, and thought-leaders who work across the academic, policy, and advocacy spaces, the Racial Justice Institute encourages collaboration among people of diverse perspectives from all faith traditions, including those who are religious and non-religious. It is our belief that individuals of all faiths and backgrounds can unite in service to others and create racial justice.